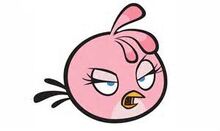 Stella, (also known as Pratty the bird) is a small pink bird introduction of Angry Birds Back To School. Her power is to blow bubles
Stella (Pratty) introduced in Angry Birds Back To School. She has now been in most games ever since, including Angry Birds Star Wars.
Stella (Pratty) has the ability to blow bubbles.
Ad blocker interference detected!
Wikia is a free-to-use site that makes money from advertising. We have a modified experience for viewers using ad blockers

Wikia is not accessible if you've made further modifications. Remove the custom ad blocker rule(s) and the page will load as expected.