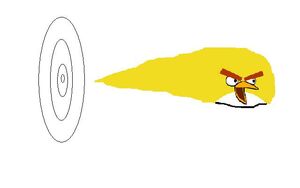 Extremely fast yellow bird
can destroy:
Destroy 20 woods
Destroy 60 glasses
Destroy 5 stones
Destroy 32 square glasses
Destroy 17 square wood
Destroy 3 square stones
Only 2 uses in every level
Destroy 7 dry ice blocks
Destroy 16 small pigs, 10 medium pigs, 7 large pigs, 3 foreman pigs, & 1 king pig
18 times faster than Chuck
Destroy 14 ice blocks
Ad blocker interference detected!
Wikia is a free-to-use site that makes money from advertising. We have a modified experience for viewers using ad blockers

Wikia is not accessible if you've made further modifications. Remove the custom ad blocker rule(s) and the page will load as expected.