he is a new enemy. a bird that is ally in pigs in Angry birds world adventure episode 4: Striking Means. he was the good friends with birds before, but now he has made them left and the discovered Evilness. He fell to dark side. Now he's mean to block me and disable Nsponge20.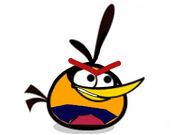 In ending, Red bird Under arrested him and till hang of death for him.
Ad blocker interference detected!
Wikia is a free-to-use site that makes money from advertising. We have a modified experience for viewers using ad blockers

Wikia is not accessible if you've made further modifications. Remove the custom ad blocker rule(s) and the page will load as expected.