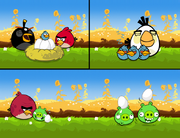 They're Still Angry is the tenth episode in Angry Birds after
Rainy Days
. The
Purple Bird
appears in this episode.
Cutscences
Edit
The Birds were having the eggs, White Bird and the Blue Birds were sleeping. But Big Brother Bird was angry cause the Pigs had stole the Eggs again.
The Birds Defeated Minion, Helmet, Mushtache, and King Pigs, with the Eggs.
Ad blocker interference detected!
Wikia is a free-to-use site that makes money from advertising. We have a modified experience for viewers using ad blockers

Wikia is not accessible if you've made further modifications. Remove the custom ad blocker rule(s) and the page will load as expected.